Jaguar S-Type 3.4 & 3.8 Classic (1963-1968)
The Jaguar S-Type may not be as well known as the brash MK 2 or the legendary Jaguar E-Type, but the luxury liner for the upper middle class is not only classically elegant, it also drives even better than many other classics from that era. At Limora, you'll find Jaguar S-Type parts and accessories that fit perfectly, available from stock at the next working day.
Johannes Göbbels
is a coachbuilder and master craftsman. Polyglot from Aachen with Belgian roots. At your service for your restoration since decades.

The S-Type: The Jaguar Flagship of the 60s

In 1963, the Jaguar S-Type was presented at the London Motor Show. Even if the front body was visually closely based on the MK 2, the car was very independent. The completely redesigned rear adopted the independent suspension from the E-Type. With barely changed wheelbase, but visually based on the Mark 10 premium class saloon, the S-Type of the 1960s was a luxurious and dynamic car to drive. In this way, Jaguar company boss Sir William established a completely new vehicle class.
The familiar XK engines with 3.4 and 3.8 litre displacement were available as engine options. The S-Type was aimed at the upmarket competition from the continent and was primarily intended to appeal to Mercedes and BMW customers. The British classic also cost quite a bit: 22,750 marks had to be paid for the S-Type when it was launched in Germany in 1963 - about five times as much as for a VW Beetle. But a ride in the S-Type also gives you a trip back in time to the good old England of the Swinging Sixties!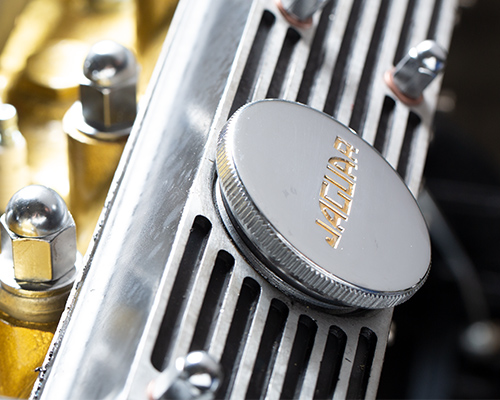 Jaguar S-Type 3.4 and 3.8 Classic Spare Parts and Advice at Limora
---
On the road, the luxury liner still makes a good impression today: the six-cylinder purrs like a cat and only starts to hiss like a Jaguar when you push its 213 hp to its top speed of 186 km/h. So it goes from 0 to 100 km/h in around 14 seconds. With that, there's no reason to hide today, just as there was back then. Our proven Jaguar experts will not hide their expertise from you either and will be glad to help with all kinds of Jaguar S-Type Classic questions - all you have to do is get in touch with us, from Monday to Friday from 06:00 to 22:00 and even on weekends.