Find the right classic car steering wheel at Limora
For more than 20 years, we have been serving the spare parts market at Limora: not only for classic English vehicles from Mini to Austin Healey, Triumph or Jaguar, but meanwhile also for continental and American vehicles - you will find all kinds of high-quality spare parts here. And that includes classic car steering wheels! Take a look at our wide range of Moto-Lita and Mountney steering wheels made of wood or leather!
All steering wheel categories at a glance

Our Moto-Lita steering wheel range
At Limora we have the right Moto-Lita steering wheel for Jaguar, Aston Martin and MG. You can also opt for a universal steering wheel with wood or leather trim. In terms of classic car wooden steering wheel, you can make the following choice:
made of mahogany or walnut wood
diameter from 13 inch up to the special size of 16 inch
with 3 spokes or with 4 spokes
flat or cupped
Note: If you prefer to calculate in centimetres instead of inches, these are the values you need to know: 13" (inch) =33 cm; 14"= 35,5 cm; 15"= 38 cm; 16"=40,50 cm; 17"= 43cm
In addition, you can choose if you would prefer to install a steering wheel with perforated or slotted spokes in your enthusiast vehicle. All spokes are polished to a high shine, allowing you and your classic car to shine! Basically you have the choice and may ask yourself the following questions:
Would you like a 12-inch leather steering wheel with three polished spokes in a flat design?
Or do you like it better if the spokes are anodised black?
How many spokes may adorn your steering wheel - would you rather have three or four?
In addition, as with the leather steering wheel, you can also opt for a flat or cupped steering wheel look.
What type of spokes do you prefer? Do you prefer aesthetically perforated or rather filigree and oval slotted?
For the perfect fitting Moto-Lita steering wheel hub, simply follow the link provided!
Mountney Steering Wheels and Hubs
This Bedfordshire manufacturer has also been producing popular steering wheels for vehicles of all kinds for over 28 years. If you are looking for a classic car steering wheel from Mountney, we at Limora have a well-stocked range for you! Note: The Mountney models - whether made of wood or leather - are all available with a bowl! Here are our wooden steering wheels first:
Mountney wooden steering wheel made of polished mahogany wood in 13 inch and three polished and slotted spokes.
Mountney M-Series wooden steering wheel with three polished and slotted spokes with 14 inch diameter - Attention: For this steering wheel you need a Mountney M-Series steering wheel adapter!
If you are looking for a Mountney leather steering wheel, we also have a few products for you. The dimensions here differ between 12 inches and 15 inches and you can order the spokes in polished or black anodised.
For the leather versions, by the way, there is only the option of ordering three spokes with a perforated pattern - but that does not detract from the aesthetics at all!
In addition, you can order the matching steering wheel hub for many car brands and models at Limora!
For example, you can find these for:
Jaguar and Daimler
MG
Land Rover
Triumph
Mini
Offers from our warehouse
Radio
Product number: 531817
compact retro radio with FM tuner, Bluetooth interface and MP3-compatible USB and SD interface. Version with front panel
Limora Umbrella "Doubrella"
Product number: 455741
rectangular, colour: dark grey, size: 148 x 90 cm, length: 78 cm. Protects the cockpit of your Roadster or Convertible f
Tool roll
Product number: 489698
made from dark brown leather with 17 high quality metric tools
Self-adhesive brand emblems
If you want your steering wheel to match your car model, your existing steering wheel problem is scratched or faded, or you simply want a different view of your steering wheel centre, feel free to read on or click through our range right now! We have chic steering wheel badges for the following brands in our range:
Austin Healey
Daimler
TVR
Jaguar
Mercedes Benz
Mazda
MG
Triumph
Rolls Royce
u.v.m.
If you want it without brand naming, you can also purchase an emblem with Union Jack or crossed target flags from us.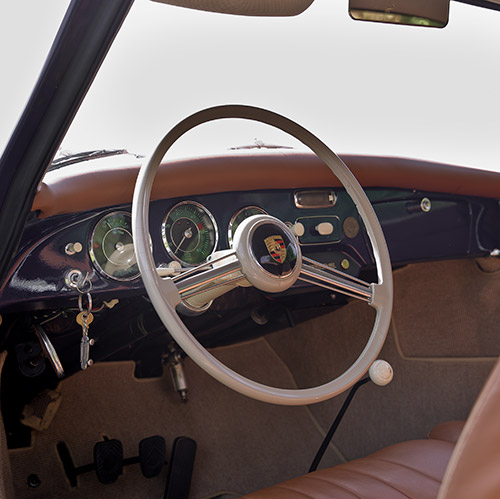 Brooklands steering wheels
The Brooklands steering wheels are specially designed to fit MG models such as the TF, the MAG, the MG-TD or the TC. We have a small but fine selection of steering wheels with diameters of 17 or 15,5 inches, all of which are very noble and of high quality. Of course, we also carry the matching steering wheel hub, but see for yourself - steering wheel hub for Brooklands steering wheels.

FAQ
Are there classic car steering wheels that can be installed universally?
Most classic car steering wheels can be installed universally. The most important thing is the availability of an adapter that makes the steering wheel mountable and also makes the technical functions of the original part available again. Horn, indicators, etc.
When should I replace a classic car steering wheel?
Wooden steering wheels should be replaced if they are damaged. If the wood becomes cracked and no longer glides cleanly through the hand, gloves or a new steering wheel will help.
Which steering wheel is best for sporty classics?
Older classic cars, pre-war, prefer to drive large wooden steering wheels. Over the years, the wooden steering wheels became smaller and smaller. Then, from the early 1960s, the leather steering wheel emerged as the sports steering wheel of choice.
Classic car steering wheel: You will find what you are looking for at Limora

---
Our customer service is available for you 7 days a week - by phone or via live chat! In addition, you are also welcome to visit us in one of our shops if you have any questions about your new classic car steering wheel.