Oils and greases at Limora

There are few topics as controversial in the classic car area as the subject of oils and lubricants. Personal preferences for specific brands or the stock in the garage are not always the best advisors when filling the machine. Not for nothing did Oldtimer Markt write years ago: "90 % of all classic car owners drive the wrong oil". Now, the wrong oil is still better than too little or too old oil, but with the right explanation of the physical necessities, we help you to find the technically suitable oil.

Finding the right engine oil for your classic car
Almost all vehicles built between the early 1950s and the late 1980s can cope with a 15W-40 or a 20W-50 (for higher mileage and higher loads). You as the oil buyer and user make the adjustment to your vehicle according to your main use.
For a motorbike with an oil bath clutch, you need an oil with Jaso MA additive. For cars with a centrifugal oil filter, an oil that keeps the combustion residues in suspension. Oils for shock absorbers, for forks and for automatic gearboxes - all available at Limora classic car warehouse.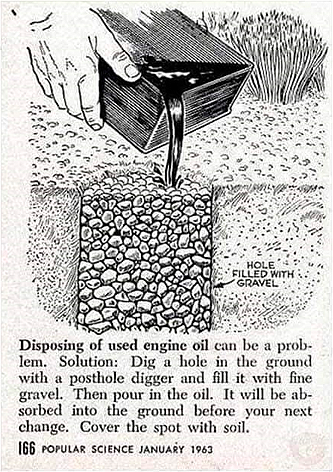 Everything was better in the past?

In 1963, for example, the whole fuss about the correct disposal of used oil could simply be dispensed with. It's unbelievable what was seriously propagated back then.

After all, one litre of oil can spoil 1,000,000 litres of drinking water. If you buy oil from us, we will of course (as required by law) accept the same amount of used oil from you for professional disposal. Please do not mix the used oil with other substances (especially not with brake fluid).

Then you have no problem with disposal. By the way, discharging waste oil into the environment or sewage system is a punishable offence nowadays.
Useful items for oil changes